Lace-Parasols - Fine Battenburg Lace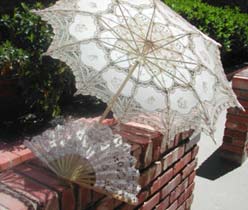 Welcome to a unique store where you will find an assortment of Battenburg lace parasols in various styles, sizes and colors. These fine crafted wedding umbrellas are 100% cotton and feature a feminine and "vintage" look.
Lace-Parasols. . . undercover elegance!
Our vintage style lace parasols are a great accessory for protection from the heat of the sun, re-enactments, Victorian weddings, French country bridal shower and reception decor, French royal court re-enactments, theatre performances, Victorian Era scenes and old westerns, historically themed plays and film productions, photo props, garden tea parties, steampunk and costumes.
Our Lace Products: